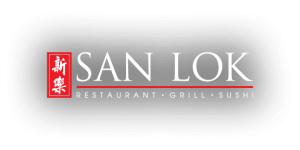 About San Lok
For many years San Lok is the place to go for delicious Chinese dishes. Founded in 1983 at the Johan Huizingalaan 306 in Amsterdam and up until today still located at the same address. Over the last 3 decades the restaurant has become loved by locals because of its quality and the refined tastes of our delicacies.
The staff at San Lok are professionals, you notice this with everything. Kind staff, smiling faces, always time for a nice chat. Hard workers with a passion for the restaurant, focussed on customer satisfaction and service. Love for the job and love for the food.
And that, you taste.
Whether you choose for a bowl of tomato soup, a deliciously scented Tipan-dish or an extensive rice table, everything is prepared with passion. The best and tastiest ingredients guarantee you will enjoy a delicious afternoon or evening.
New Luck
Since March 2015 our guests enjoy our meals in a renewed setting. The restaurant has been renovated and has undergone a complete metamorphosis.
Beautiful, modern, fresh, relaxing and atmospheric are just a few of the compliments we received from our guests. Nice words, that makes us lucky. This fits perfectly with our name. Did you know that San Lok means New Luck in Chinese?
Also new: Our Japanese menu with beautiful sushi dishes. The surprising taste combinations and stylish presentation have led to many compliments and wows. We are proud of this culinary addition to our menu.
So, do you want good food in a nice casual atmosphere, San Lok has it, come over here!